Vintage Antique Mobilgas Double Sided Porcelain Pegasus Shield Sign WOW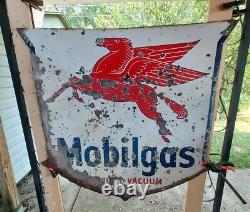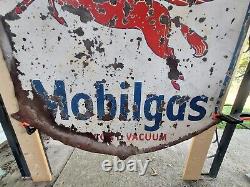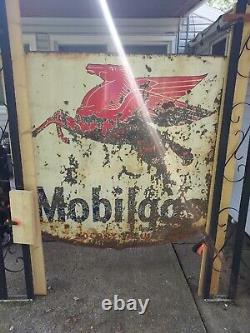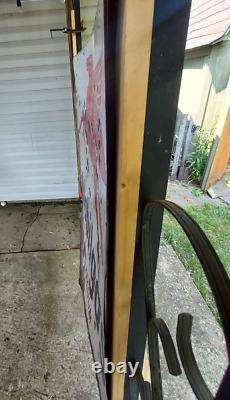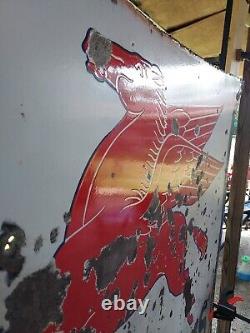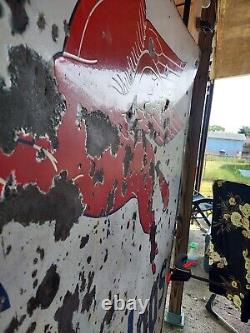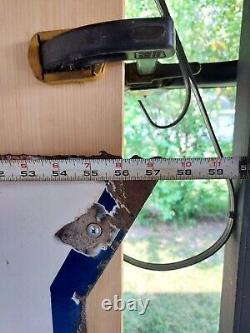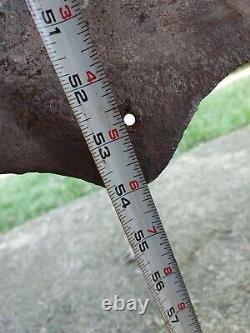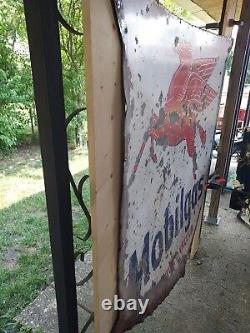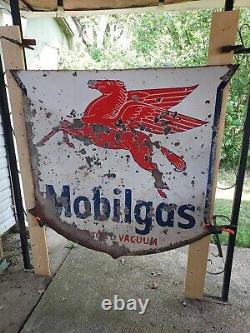 Iconic piece of American history. This Double Sided Porcelain & Steel Shield Sign is a quintessential piece for all serious collectors. Dimensions are 57 1/2" across at the top of the Shield and 54" Tall top to bottom.
This is a massive sign and weighs about 100 lbs. A little history about the sign: It was collected at some point by my late grandfather and was discovered during a clear out of his barn property near Bridgman, Michigan. I will be listing a handful of other choice items from the same collection so please check out my listings for more signs and Americana, etc.
The Bad: Unfortunately the sign was not stored flat therefore it has developed a pretty substantial warp to it. Luckily it is not creased just warped, so it is quite possible to flex it back into position. Please see my photos I will demonstrate what it looks like on the ground to show the warp, and then show how I was able to get the warp out just by mounting it. The sign obviously shows heavy patina and chipping, but in my view it still makes for a beautiful and rustic piece. The colors still present nicely, and it definitely makes an impression. I know for a fact that if you simply wanted to display the side with the writing on socony vacuum more intact, you could easily get this sign flat by mounting it flat to a wall. It will only be tricky to remove the warp if you want to hang it and display both sides. Also I will be considering offers on this item, so feel free to shoot one to me via message or through the listing.
Finally, I can deliver this item within a 250 mile radius of South Bend, Indiana. Anyways, thanks for looking and cheers!