R17D 4FT 48 F48T12/D/HO T10 T12/HO/RDC LED Double Sided Sign Tube Light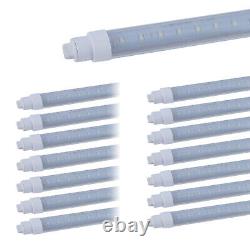 - Our products have high efficiency of 110+lumens per watt, these high efficient output can save 80% on electricity bill of lighting comparing with traditional fluorescent light bulb. - Our LED Light Tube is engineered to light instantly when the switch is flipped.
No more waiting for old fluorescent tubes to "warm up" or turn all the way on! No Flashing light, benefits for our eyes. - This double sided LED bulbs can gives 120-degree lighting each side with no wasted light, about 40% more lumens than standard flat LED tubes, and the 360 degree rotating base allow us to adjust the light angle conveniently. Our products are perfect for LED lighting in advertisement sign, factories, garages, workshops, etc. -Our LED tubes are ideal for fluorescent replacements.
Perfect lighting for Garage, warehouse, supermarkets, offices, convenience stores, warehouse, shops, hotels, etc. - Due to constant current driver and imported SMD as light source. The lights can be rated over 50,000 hours of use.