Double sided LED Gas Price Sign 12 X 40 Red or Green Financing Available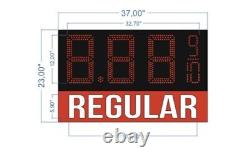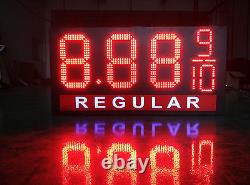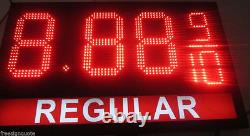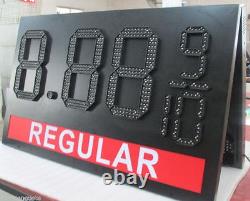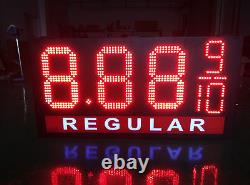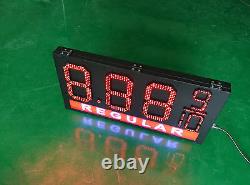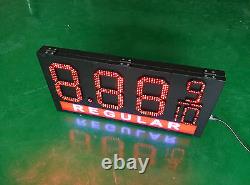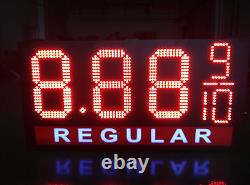 LED Gas Price Changer Sign - Single sided Led fuel sign. 20 inch X 40 inch (custom sizes available). Select red or Green (other colors available, please ask). Select Regular/Unleaded/Premium/Diesel/Clean Diesel (custom description offered).
IP65 water proof Iron Cabinet - fully Assembled. Wireless RF remote - up to 300 FT line of site. P8 Series outdoor led signs. The P8mm programmable led sign offers######xA0; stunning image quality allowing you to create beatiful high resolution content that's full of color.
This outdoor led sign is packed with over 1450 pixels per square foot which allows you display more content with fewer slides. Imagine telling your customer everything they need to now about a product on a single slide. The P8 Series stand apart for other led signs on the market. Give your business the digital sign advantage and create a big impression on customers. P8mm Led sign technical data. 5-inch (H) x 10-inch (W).
1451 Pixels per square ft. P10 Series outdoor led signs. The P10mm led sign is quickly becoming the industry standard for outdoor led signs. It features an impressive 929 pixels per square foot which is perfect for creating eye catching digital content that will surely get customers attention.
The P10 programmable led display is great for creating electronic advertisements using pictures, animations and videos. Take advantage of this super high resolution led sign and start creating amazing digital content that sells.
6-inch (H) x 12-inch (W). 929 Pixels per square ft. P16 Series outdoor led signs.
The P16 is our entry level led sign that provides way more than you expect for not that much. Do not settle for a low resolution single or tri color led sign when this programmable full color can be fully equipped for a comparable price.
With this real pixel outdoor led sign you can create digital content using actual images and videos and display more attractive presentations that will convince customers and drive sales. P16mm led sign technical data.
8 Pixels X 16 Pixels######xA0. 362 Pixels per square ft. We love working with customers to create the perfect led signage solutions. We build led signs that will captivate target audiences and ultimately drive sales. We offer custom sizes and resolutions, so share your ideas with us and we will build your sign.
######xA0; ######xA0; ######xA0; ######xA0; ######xA0; ######xA0; ######xA0; ######xA0; Sincerely, ######xA0. ######xA0; ######xA0; ######xA0; ######xA0; ######xA0; ######xA0; ######xA0; ######xA0.