Address America Boardwalk Double-Sided Reflective Address Sign With Name Rider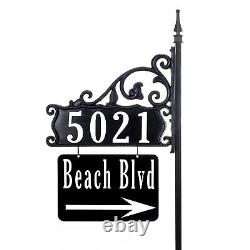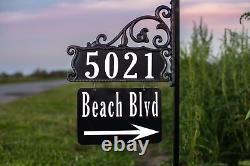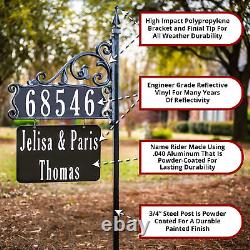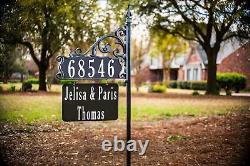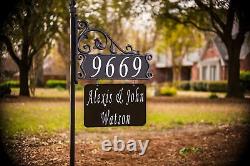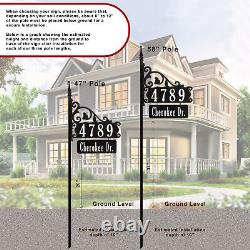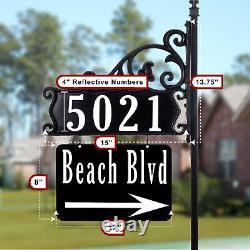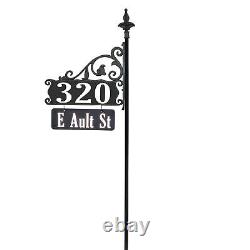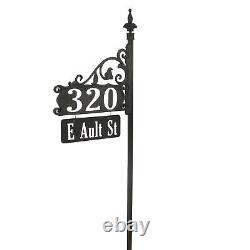 Custom-made to include your address and name on both sides. Made of high-impact polypropylene with a large aluminum name rider, which never rusts or needs to be painted. Hand-crafted for maximum durability and reflectivity.
Keeps your address number visible, day and night, and in almost any weather condition. The Boardwalk address sign not only looks great in your yard, but it also reflects like a beacon in the night. Highly reflective address signs help emergency personnel find your home faster in a critical situation.
This Boardwalk does just that, and it is built with engineer-grade materials to ensure durability and long-lasting use. Boardwalk Double-Sided Reflective Address Sign With Name Rider.
CUSTOM ADDRESS SIGN WITH LARGE NAME RIDER: Your boardwalk address yard signs come with two plaques for dual customization - one for the house number and the other for the family name or street name. The name rider plate is larger, allowing you to add two lines of text and even direction arrows. DOUBLE-SIDED, REFLECTIVE, HIGHLY VISIBLE: The double-sided, highly reflective address sign ensures that the key identifiers like house number and name are easily discoverable - day or night. MODERN, ELEGANT DESIGN FOR COMPLETE HOME DECOR: This custom address yard sign comes to you fully customized, requiring minimal effort for installation.
The post is 47 inches tall, and the name plate measures 8" x 12". You can choose between the available font styles, complemented further by the floral motifs adjacent to the number plate.
HANDCRAFTED IN THE USA: At Address America, we pride ourselves on assembling and handcrafting these custom home address signs at our shop in Jackson, Mississippi. We are a family-run business founded in 1992. We have helped numerous homeowners across the country make their houses more perceptible and easy to find through the years. DESIGNED FOR ALL-WEATHER CONDITIONS: Made with high-quality metal and polypropylene, these custom address sign plaques for yard are crafted to withstand the harshest of weather conditions while remaining noticeable. Rain, snow, fog, night - these signs are primed to stay visible, time after time.
The numbers applied are made with engineer-grade reflective vinyl for a long life. Specifications Powder-coated stainless steel bolts and nuts. Powder-coated steel tube pole available in 2 lengths-47" and 58" Bracket is comprised of high-impact Polypropylene, for a wrought iron look and weather resistance. It never rusts and never needs painted.
The name rider is a large 12" x 8" aluminum name rider that supports two lines of text, numbers, or an arrow. Address numbers are 4 tall and highly reflective. Looking for the highest quality reflective address signs for yards?